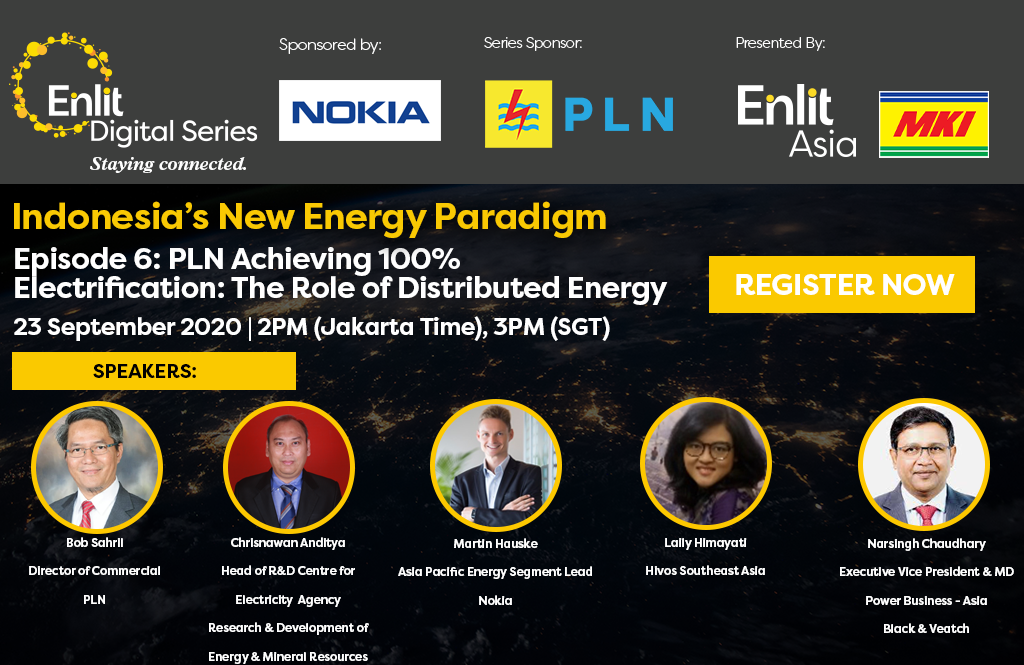 Title: PLN Achieving 100% Electrification: The Role of Distributed Energy
Episode: 6
Moderator: Narsingh Chaudhary, Executive Vice President & Managing Director, Power Business - Asia - ‎Black & Veatch
Speakers:
Bob Sahril, Director of Commercial | PLN

Chrisnawan Anditya, Head of R&D Centre for Electricity, New Energy, Renewable, & Energy Conservation Technology, Agency for the Research & Development of Energy & Mineral Resources (ESDM)

Martin Hauske, Asia Pacific Energy Segment Lead, Nokia

Laily Himayati, Hivos Southeast Asia
Overview: 100% electrification is a key target for PLN and the Indonesian government, in line with the UN's SDG7. Distributed Energy and microgrids have been put forward by some as the answer to achieving 100% electrification, playing a significant role in the development of not just Indonesia's energy systems, but the ASEAN region as a whole. As an archipelagic state, Indonesia is ideally placed to realise the potential of Distributed Energy; in this interview, PLN will share their plans for 100% electrification and the support they are providing low-income areas to ensure affordable energy solutions
In the panel discussion, expert speakers will discuss the rise of microgrid technology and how these can be adopted to best suit PLN's needs. Sometimes seen as a threat to national utilities' existing business models, the discussion will provide insights into how PLN's business models can be adapted to view the adoption of distributed energy and microgrids as an opportunity on which to capitalise.