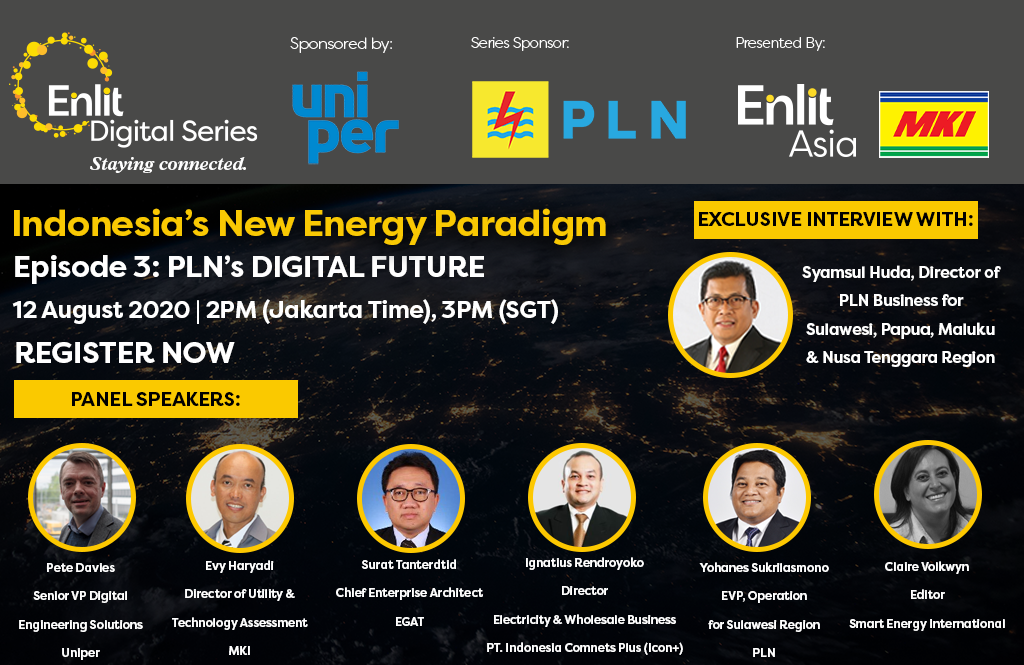 Title: PLN's Digital Future
Episode: 3
Interviewee: Syamsul Huda, Director of PLN Business for Sulawesi, Papua, Maluku and Nusa Tenggara Region
Moderator: Claire Volkwyn, Editor, Smart Energy International
Speakers:
Pete Davies, Senior VP Digital Engineering Solutions, Uniper
Evy Haryadi, Director of Utility & Technology Assessment, MKI

Surat Tanterdtid, Chief Enterprise Architect, EGAT

Ignatius Rendroyoko, Director Electricity & Wholesale Business, PT. Indonesia Comnets Plus (Icon+)

Yohanes Sukrilasmono, EVP, Operation for Sulawesi Region, PLN
Overview:
Digital technologies are changing the face of the power industry but a coherent strategy is required to fully capitalise on the myriad benefits digitalisation offers. This interview will outline how digital technology features within PLN's New Paradigm and highlight where the organisation sees maximum benefit to their existing and future operations, driving their investment strategy in the short- to medium-term.
Digitalising PLN will have significant benefits to the Indonesian power and electricity sector. The subsequent panel discussion will explore the solutions available to PLN that will facilitate their digital transformation. Sharing their experiences, our panel of experts will highlight how these digital technologies can improve PLN's operations, current and future, providing greater efficiency and understanding of the demands their systems are experiencing and enabling a greater customer focus.