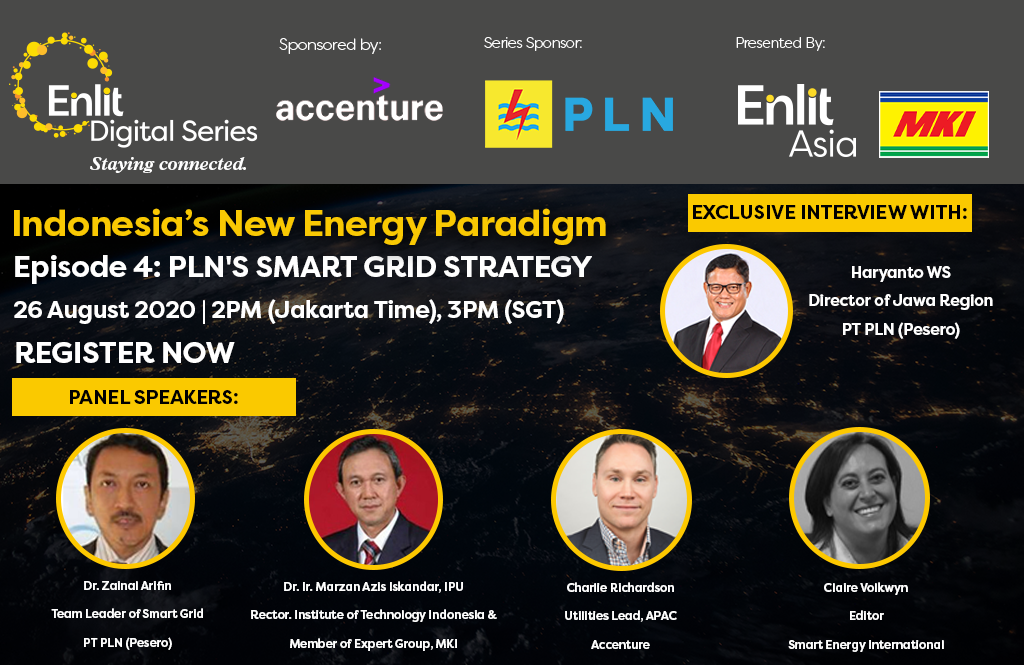 Title: PLN's Smart Grid Strategy
Episode: 4
Interviewee: Haryanto WS, Director of Jawa Region, PT PLN (Pesero)
Moderator: Claire Volkwyn, Editor, Smart Energy International
Speakers:
Dr. Ir. Marzan Azis Iskandar, IPU, Rector. Institute of Technology Indonesia & Member of Expert Group, MKI

Dr. Zainal Arifin, Team Leader of Smart Grid, PT PLN (Pesero)

Charlie Richardson, Utilities Lead, APAC, Accenture

Overview:
Smart Grids are a critical tenet within the digitalisation pillar of PLN's New Paradigm. The opening interview will take a deep dive into PLN's smart grid strategy and how the implementation of smart grids across Indonesia will facilitate the transition to renewable energy, while also helping to ensure a more reliable supply of power to a country plagued by blackouts, driving economic growth. The conversation will also focus on PLN's Technology Road Map and the where PLN expects to see the greatest gains from smart grid implementation. The subsequent panel discussion, featuring PLN and regional and international stakeholders, will explore the lessons learned in smart grid implementations globally and how effectively managing the data gathered can make or break in achieving significant ROI on smart grid investment. The panel will also explore how smart grids and renewable energy come together and facilitate the transition to a cleaner energy future.