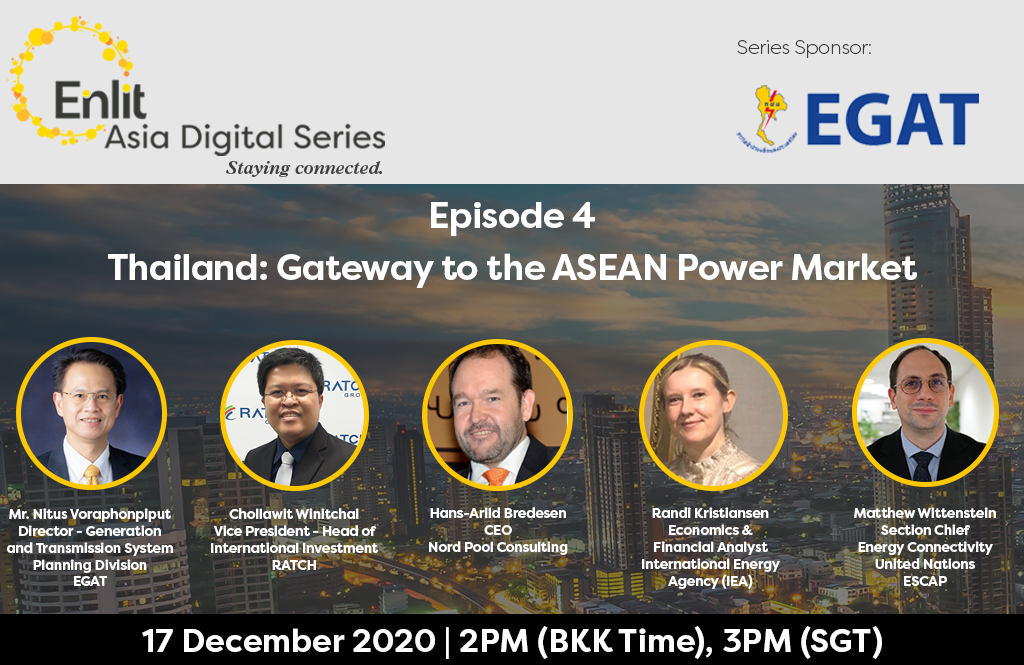 Title: Thailand: Gateway to the ASEAN Power Market
Episode: 4
Moderator: Matthew Wittenstein, Section Chief, Energy Connectivity, United Nations ESCAP
Speakers:
Mr.Nitus Voraphonpiput, Director - Generation and Transmission System Planning Division, EGAT

Chollawit Winitchai, Vice President - Head of International Investment, RATCH

Hans-Arild Bredesen, CEO, Nord Pool Consulting

Randi Kristiansen, Economics & Financial Analyst, International Energy Agency (IEA)

Overview: Thailand's ambition to become a regional power hub is well known and it is a logical choice, with borders with Cambodia, Laos, Malaysia, and Myanmar; parts of the country less than 100km from China and Vietnam and its border with Malaysia providing access to existing links to Singapore. Discussions have been underway for some time to increase its purchase of power from Laos and sell it on to Malaysia, Cambodia and Myanmar however the only existing multilateral trade agreement is between Thailand, Laos and Malaysia. Increased interconnectivity through multilateral power trading can bring multiple benefits, including reduced system costs, increased energy security and an ability to integrate higher shares of variable renewable energy.
Following a presentation by EGAT, outlining their overarching strategy behind their regional power hub ambition, a panel of experts will discuss how the region's infrastructure can be developed to enable the ASEAN Power Grid vision. The panel will also discuss how ASEAN should develop a power trading market whilst also sharing insights into various models of multilateral power trade and the mechanisms and platforms that exist to further enable a regional power market.