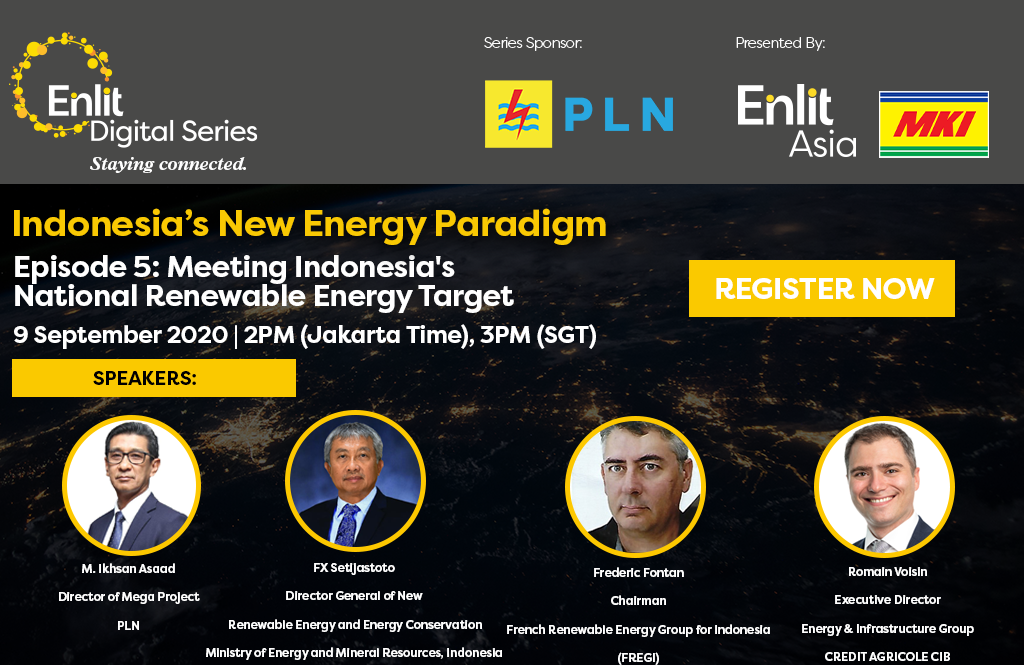 Title: Meeting Indonesia's National Renewable Energy Target
Episode: 5

Moderator: Frederic Fontan, Chairman, French Renewable Energy Group for Indonesia & Chief Representative in Indonesia, EDF
Speakers:
M. Ikhsan Asaad, Director of Mega Project, PLN

FX Setijastoto, Director General of New, Renewable Energy and Energy Conservation, Ministry of Energy and Mineral Resources, Indonesia

Romain Voisin, Executive Director, Energy & Infrastructure Group, CREDIT AGRICOLE CIB
Overview: Indonesia's energy policy calls for 23% renewables in the national energy mix by 2025. This is an ambitious target considering it missed its 2019 target by just over 5%, achieving only 12.36% last year. However, the Indonesian government is pushing ahead with reforms to jump-start the transition to renewable energy and green power is at the heart of the New Paradigm. A series of presentations will provide insights into the Ministry of Energy & Mineral Resources' plan of how to achieve this ambitious figure, the role PLN plays in supporting this through their RE strategy, and the barriers the private sector faces in playing a role in Indonesia's clean energy future, and how these can be overcome.
In a far-reaching panel, speakers from across the region's renewable energy sector will examine where the opportunities for RE growth lie in Indonesia. Supportive policy and regulatory environment are critical enablers in RE adoption, this panel will highlight where greater support is needed to help achieve the 23% target. Speakers will also explore the capacity for C&I energy users to reduce their carbon footprint through captive power projects and the role of technology in supporting the switch to lower carbon energy solutions.