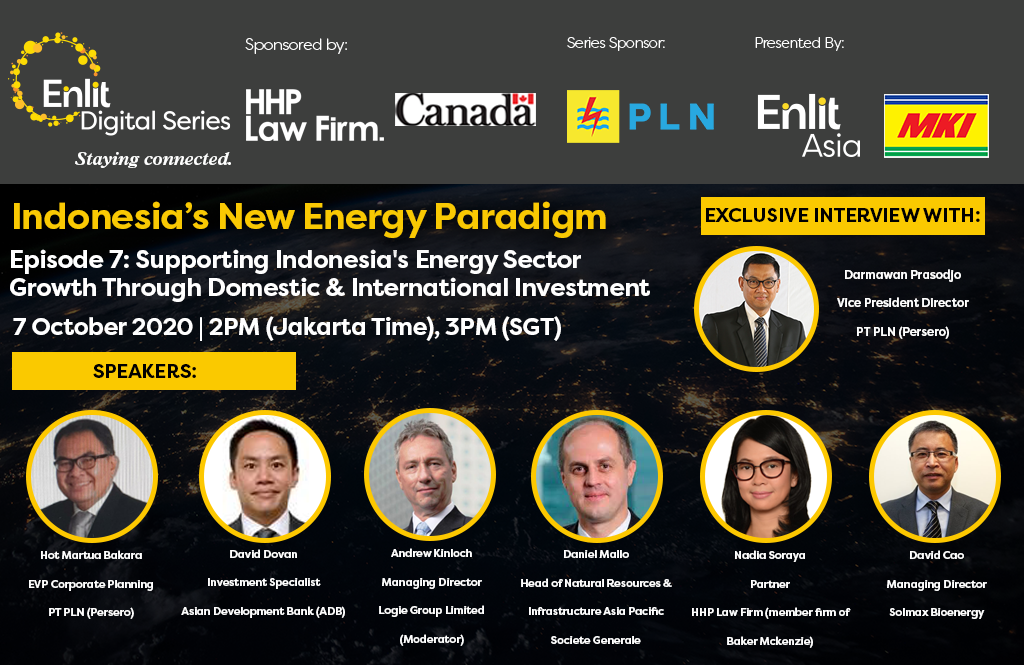 Title: Supporting Indonesia's Energy Sector Growth Through Domestic & International Investment
Episode: 7

Interviewee: Darmawan Prasodjo, Vice President Director, PT PLN (Persero)
Moderator: Andrew Kinloch, Managing Director, Logie Group Limited
Speakers:
Hot Martua Bakara, EVP Corporate Planning, PT PLN (Persero)
David Dovan, Investment Specialist, Asian Development Bank (ADB)
Daniel Mallo, Head of Natural Resources & Infrastructure, Asia Pacific, Societe Generale
Nadia Soraya, Partner, HHP Law Firm (member firm of Baker Mckenzie)
David Cao, Managing Director, Solmax Bioenergy

Overview: Indonesia needs US$36.95 billion to achieve its new and renewable energy mix target, such a figure requires significant investment from both domestic and international stakeholders. In the short-term, the availability and cost of capital have been impacted by the ongoing COVID 19 situation while longer-term, the regulatory and legal frameworks will, of course, play a major role in investment decisions with Indonesia competing against fellow ASEAN nations in one of the hottest energy markets globally.
In this discussion, speakers will highlight the opportunities for investment across the country's power and electricity sectors, in line with the government's energy strategy and PLN's New Paradigm, whilst also sharing their views on the barriers investors face when considering Indonesia's power sector and the appetite for investment in the country under the current legal and regulatory frameworks.