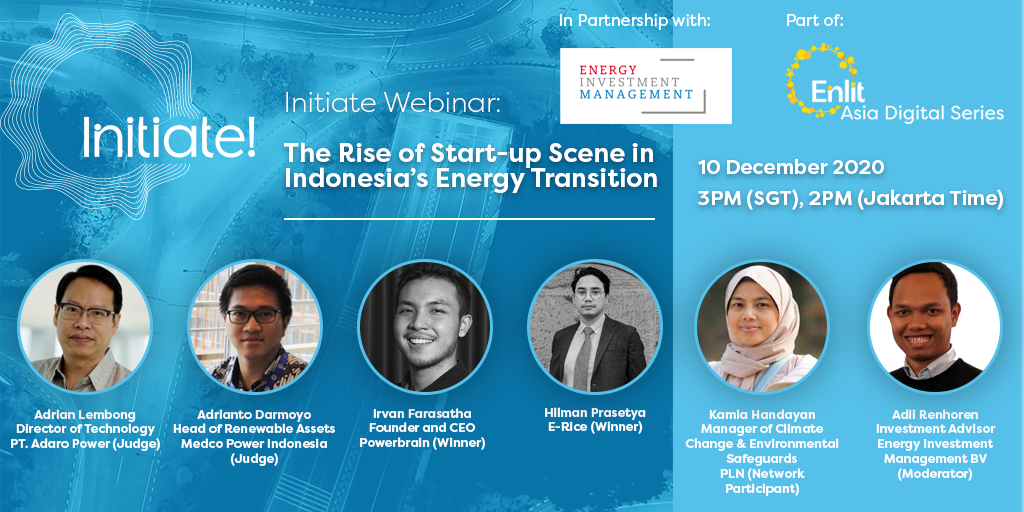 Title: The Rise of Start up Scene in Indonesia's Energy Transition

Moderator: Adli Renhoren, Investment Advisor, Energy Investment Management BV
Speakers:
Adrian Lembong, Director of Technology , PT. Adaro Power (Judge)

Adrianto Darmoyo, Head of Renewable Assets, Medco Power Indonesia (Judge)

Irvan Farasatha, Founder and CEO, Powerbrain (Winner)

Hilman Prasetya, E-Rice (Winner)

Kamia Handayan, Manager of Climate Change & Environmental Safeguards, PLN (Network Participant)

Overview: Southeast Asia is becoming a hotbed for energy startups with exciting innovations and emerging new technologies from entrepreneurs and disruptors, driving immense investment growth in the region. In this webinar, the Winners and Judges from the Indonesian Energy Innovation Challenge come together to discuss how the future generation of ASEAN energy sector will play a part in making the energy transition thrive in Southeast Asia. They will each share their perspective on how the future energy sector will look like and what new technologies and capabilities could transform the energy sector.
Topics include:
Energy transition trends
Startup scene in Indonesia/Jakarta
Technology innovations
New business models
Entrepreneurship in Indonesia
Cultural mindset of consumers
Trends in South-East Asia
The role of Indonesia in the region