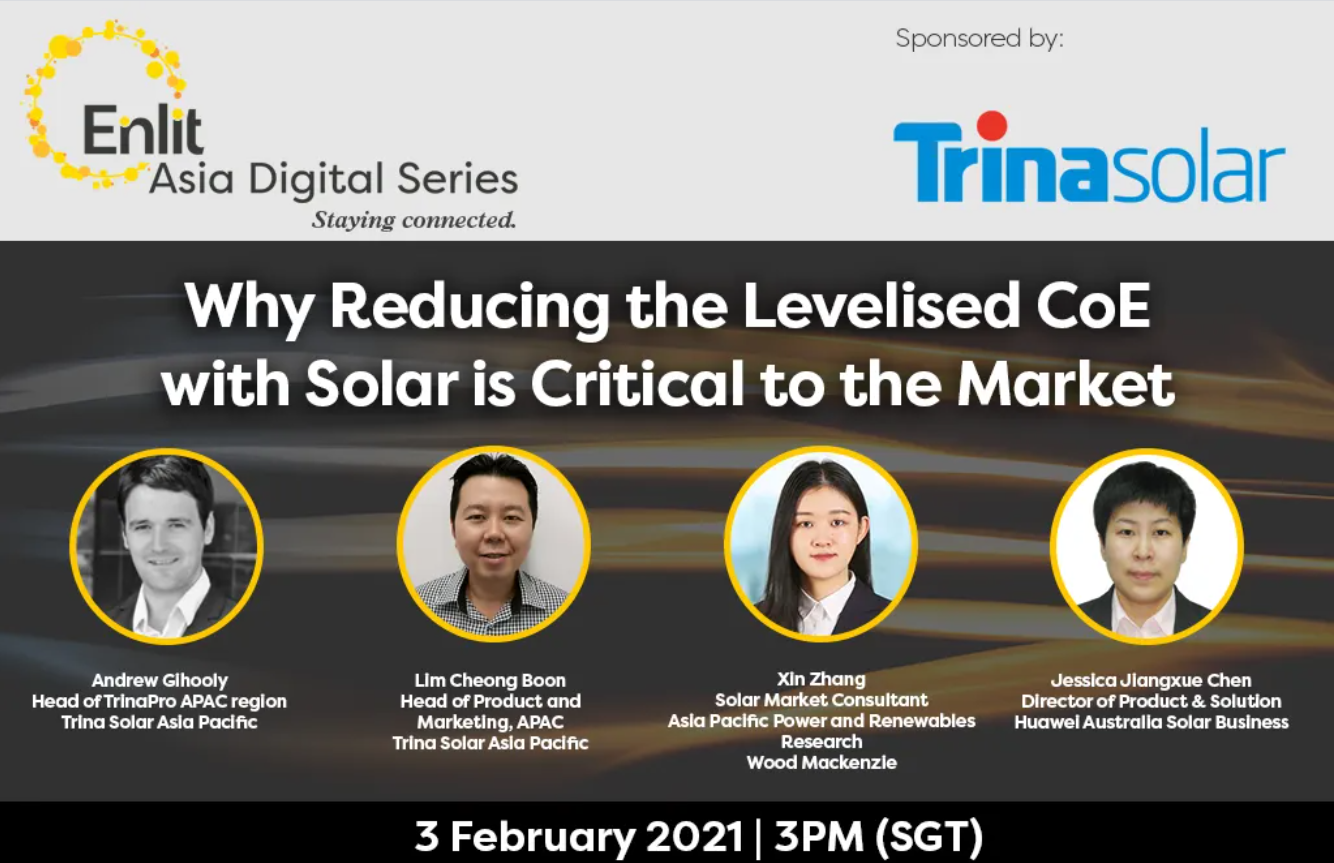 Title: Why Reducing the Levelised CoE with Solar is Critical to the Market
Speakers:
Andrew Gihooly, Head of TrinaPro APAC region, Trina Solar Asia Pacific
Lim Cheong Boon, Head of Product and Marketing, APAC, Trina Solar Asia Pacific
Xin Zhang, Solar Market Consultant, Asia Pacific Power and Renewables Research, Wood Mackenzie
Jessica Jiangxue Chen, Director of Product & Solution, Huawei Australia Solar Business
Overview:
Reduction of LCOE for solar power plays a critical role in the greater acceptance of solar as a significant player in the ASEAN energy mix. While utilities across the region set their sights on NRETs that vary from achievable to highly ambitious, the adoption of large-scale solar is largely viewed as a key enabler, if considered to be cost-competitive. Meanwhile, commercial users are increasingly seeking the greatest return on investment as they adjust their power procurement strategies to align more closely with their sustainability goals.
As the market leader in the global PV module and smart-energy solutions space, with over 60GW of installed solar modules worldwide, Trina Solar has recently released the Vertex PV module series, purposefully designed for utility-scale and large C&I solar use. In this discussion, Trina Solar will be joined by industry experts to provide:
Insights into the regional solar market
An outline for the future of solar in the APAC region – efficiency, technology costs etc.
An understanding of the importance of reducing LCOE to ensure a competitive future for solar and ensure the transition to cleaner energy
An overview of integrating large format modules onto single axis trackers - the challenges involved and opportunities to lower capex, LCOE and risk
Inverter updates for high power modules