Like the rest of the economy, industrial firms are emerging from a year dominated by the COVID-19 pandemic – some in a better position than others, on account of geography or their specific industry.
Irrespective of how they have weathered the year, right now we have an opportunity to move forward as part of the post-pandemic green recovery. Particularly as this year of uncertainty has shed a bright light on the other urgent challenge facing the world: climate change.
And so, we have reached a tipping point, with consensus solidifying around the need for significant concerted action to reduce greenhouse gas emissions. This applies equally to the industrial sector – even energy-intensive processors and manufacturers.
---
This article was originally published in The Guide
---
Action from this sector is crucial, given that industry accounts for a third of total energy consumption. Not only that, while other sectors, such as power generation, agriculture and households have begun reducing their emissions of greenhouse gases, industry has hardly budged, even in a country like Germany.
Three levers for emission reduction
To address this, I see three levers to help industry pursue emission reduction and decarbonisation. The first is bringing greater flexibility in how energy is used, for example by adopting storage solutions and enabling virtual power plants.
Secondly, we need to digitalise operations to ensure energy is used efficiently. This can be achieved by implementing IoT devices, sensors, and software.
And last – but certainly not least – by enabling smart electrification across operations.
Of the three, smart electrification offers the greatest opportunities for decarbonisation, but can significantly benefit from the other two.
Within electrification itself, there are two aspects to consider: energy supply to the industrial site, for example, opportunities for zero-carbon renewable wind, solar, and hydro; and energy management onsite, such as software-guided demand management.
The reason why electrification can have such a big impact on decarbonisation is that clean renewable power can replace processes previously driven by high-emitting technologies, such as diesel generators.
As a result, a process that previously produced high emissions now can produce zero, if supplied by renewable energy.
With regards to onsite energy management, opportunities abound because electrification opens the door to digitalisation and smart electrification. These, in turn, deliver opportunities not only in energy efficiency, but also in operational resilience and asset optimisation.
Sensors, data, and IoT
Making electrification 'smart' means adding sensors and Internet-of-Things platforms that can collect huge amounts of data. This data is then aggregated and analysed by algorithms and software to help plant operators identify efficiency opportunities within the plant's energy system and broader operations.
Outcomes include optimised production, reduced electricity consumption, and proactive identification of situations that could compromise system efficiency, such as equipment failure.
Going a step further, digitalisation can enable development of a digital twin for the plant's power systems. When combined with industrial automation, planners can test a range of operating scenarios to find the optimal coordination of systems and services for lower error rates and reduced planning, construction, and maintenance costs.
Two real-world examples can help illustrate the magnitude of opportunity available to industrial companies.
The 200-year-old Finnish brewer Sinebrychoff is building a grid-connected battery energy storage system. With advanced software guiding energy system operations, the plant will operate as a virtual power plant, not only optimising electricity use at the brewery, but also engaging in energy trading with the grid operator.
As a result, the plant will achieve improved energy efficiencies, as well as a new revenue stream by getting paid by the grid operator to reduce demand on the grid at certain periods – a process enabled by the advanced virtual power plant software and onsite battery storage.
Another example is Gestamp, a metal automotive components manufacturer in Spain. It has numerous energy-intensive processes, but lacked visibility into its energy consumption, even as it faced rising electricity prices.
By installing energy meters and communication solutions linked to big data analytics across 15 factories in six countries, Gestamp was able to identify and implement operational improvements that cut electricity consumption by 15 percent and lowered CO2 emissions by 14,000 tonnes annually.
Central to the decarbonisation of the industrial sector is efficient energy management, and the most effective way to make that happen is smart electrification. For plant managers, the benefits include greater production flexibility, lifecycle optimisation and enhanced performance. It also opens the door to the decarbonisation of the sector through green electricity and significant opportunities in energy efficiency.
By implementing smart electrification in industrial plants, companies can shrink their environmental footprints, and support national and regional sustainability commitments such as the Green Deal in Europe.
The pandemic has forced us to pause and reconsider much about how we operate.
For industrial firms, now is the time to build for the future by incorporating smart electrification into their post-pandemic recovery and growth plans. The results will not only benefit the bottom line, but also the future for their customers, community, and our planet.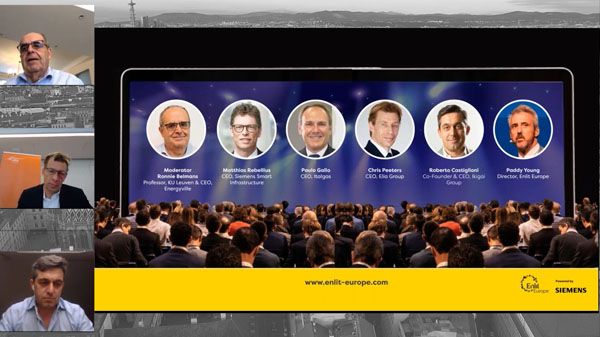 Related content
He took part in Enlit Europe's virtual debate: "What if the global pandemic accelerated the green transition?"
---
This article was originally published in The Guide
---