Spotlight on Canada: A European and Canadian exchange of views on how Digitalisation can help the energy sector in a Post-Covid era
In this episode, European and Canadian utilities will exchange views on how Digitalisation can help the energy sector in a post-Covid era.
As the second-largest producer of hydropower in the world, the Canadian industry has always been recognised for its leadership in large construction projects and in the operation of transmission networks.
The shift of paradigm from a centralised to a distributed grid has given Canada the opportunity to shape a more sustainable energy future for this country through the use of local smart solutions.
This episode is organised by The Trade Commissioner Service of Canada, in conjunction with Canadian Provinces and ENLIT Europe, invites you to an exchange of views on experiences and opportunities between the Canadian and the European energy communities to meet the challenge of integrating more renewables, reducing costs and energy and while meeting its decarbonisation objectives using digital technologies and facing new challenges deriving from the pandemic.
You can contact the Canadian Pavilion exhibitors at any time by clicking on their Exhibitor profile on the Enlit Europe exhibitor list or via their Swapcard virtual booth. If you're not signed in to Swapcard yet, a user will be created for you once you register below.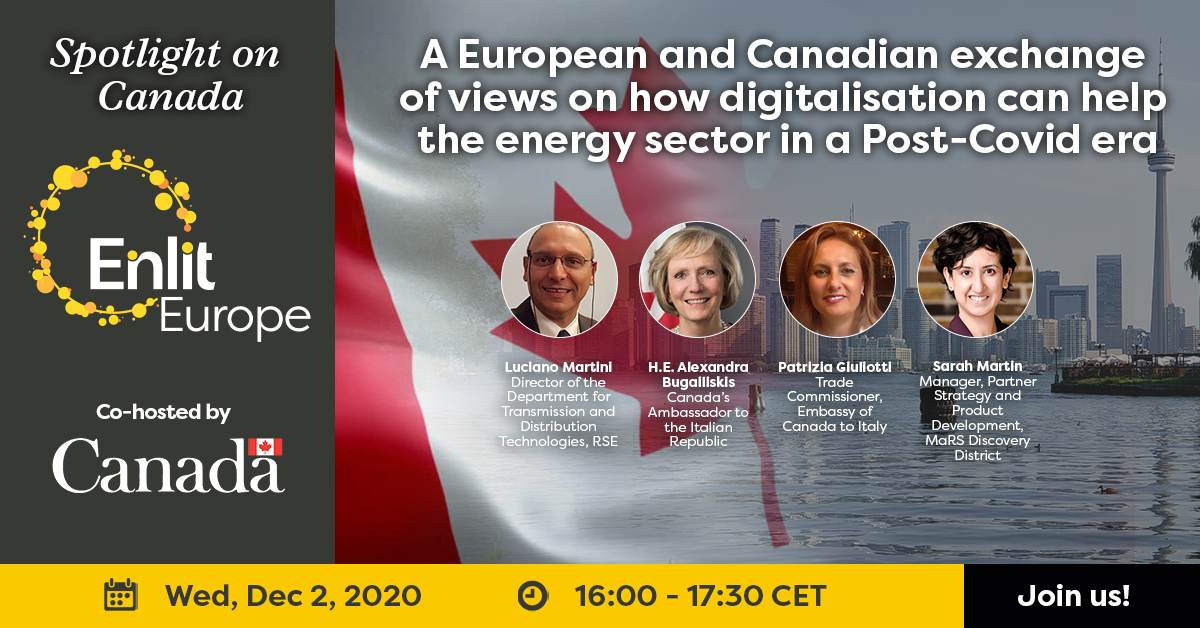 Moderator:
Luciano Martini, Director of the Department for Transmission and Distribution Technologies, RSE

Speakers:
H.E. Alexandra Bugailiskis, Canada's Ambassador to the Italian Republic
Neetika Sathe, Vice President, Alectra Green Energy & Technology Centre (GRE&T Centre)
Sarah Martin, Manager, Partner Success, Advanced Energy Centre (AEC), MaRS Discovery District
Naveen Goswamy, Science and Technology Advisor, NRCan
Patrick Judge, VP Business Development - New Solutions - InnovHQ, Hydro-Quebec
Robert Denda, Head of Network Technology and Innovability, Enel Global Infrastructure and Networks
Vincent Scherrer, Delegate to the CIO, GRTgaz
Klaas Hommes, System Operations and International Development, TenneT TSO B.V.
Patrizia Giuliotti, Trade Commissioner, Embassy of Canada to Italy
Missed previous episodes? Watch on demand:
Spotlight on Germany: The Digital Agenda for the Energy Transition - Lessons learnt in Germany from the federal programme SINTEG